DOES VOICE OVER TECH MAKE YOU CRY? Help is here!
"VO TECH BOOTCAMP"
starts Wednesday, May 27, 2020!
Brought to you by Lori S. Wyman, CSA…taught by Voice Over Goddess 
Karen-Eileen Gordon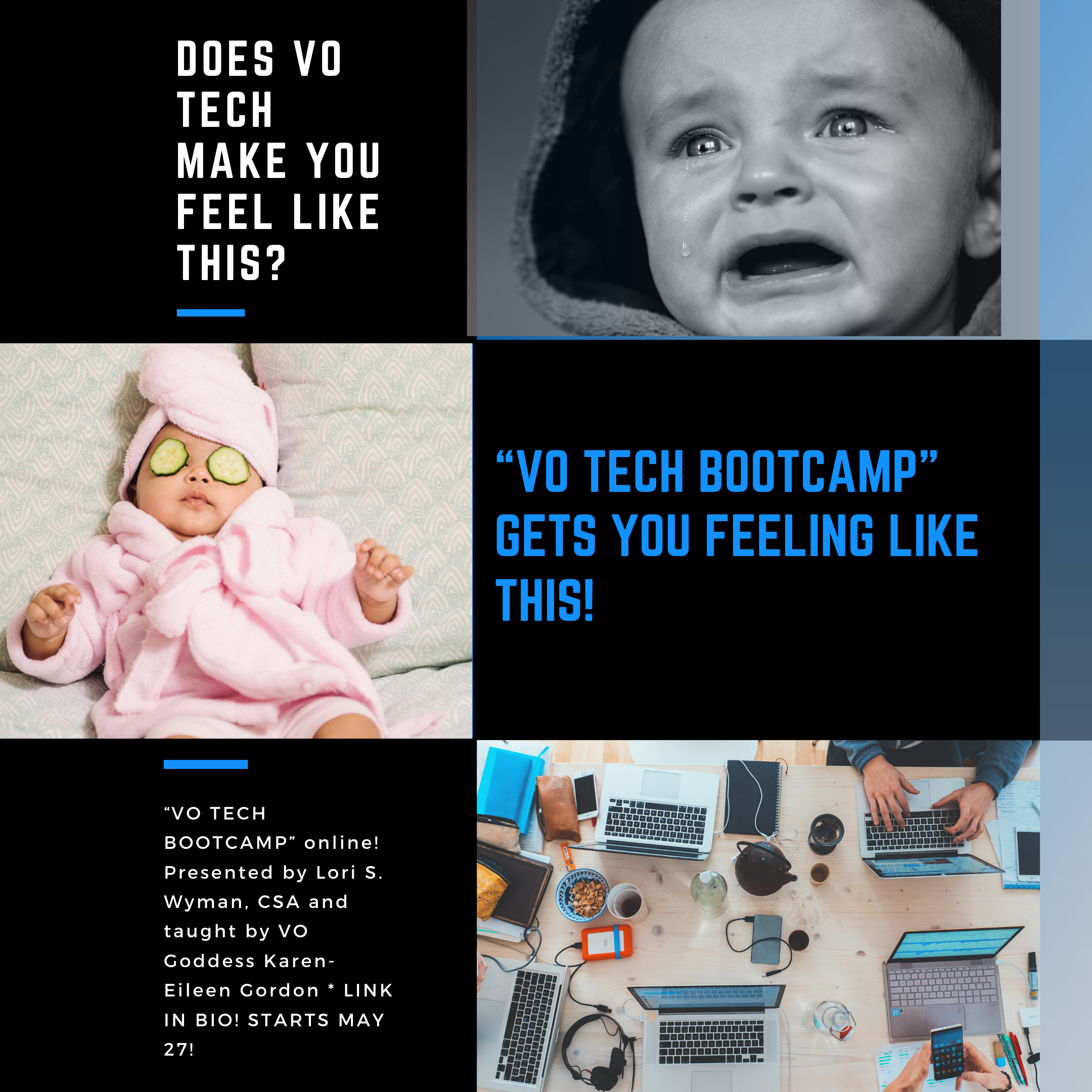 Excellent VO Human (or aspiring VO Human :))…welcome.
Karen-Eileen here, your "VO Tech Bootcamp" Instructress! This on-line course grew out of feedback from both my clients/students, and those of you who have been with me for some of Lori/my previous voice over offerings: TECH was the thing that most of you felt was the biggest speed-bump and "barrier to entry" for your thriving VO career. Not any more, LOL!! I. Love. VO. Tech. And I love teaching it, and empowering fellow artists–and all humans who feel called to use their voices more out in the world.
This course has THREE PARTS:
A 2-ish hour Zoom LECTURE, Wednesday May 27th, 6:30-8:30pm ET (RECORDED in case you're unable to attend).
An 8-ish hour WORKSHOP (all via Zoom), Sunday May 30th, 10:00am-6:00pm ET.
A 2-ish hour Zoom FOLLOW-UP Q & A, date TBD, about a week after the workshop.
We're keeping class size limited to allow greater interaction, and we'll start a waitlist for a repeat of this course once we fill, to be held in the next month or two.
If you want to create a Professional Home Studio, you'll leave this workshop with the knowledge to do just that–all for a few hundred dollars investment. We'll also talk about the A-B-C-Ds of Voiceover, which I think are great foundations:
A = Acting (storytelling, performance)
B = Business (everything about the VO world you need for a thriving journey, from demos to dealing with clients)
C = Computer (All Things Tech–that's the main focus of this workshop)
D = Decision (your Mindset…one of the least understood and most important aspects of your voice over career!)
Since Lori is great at explaining stuff in her newsletter emails, I'm copying it below. All questions welcomed to either of us (me = VoiceOverKaren@gmail.com).
To Your VO Success! 🙂
—–FROM LORI!—–
ONLINE
VOICEOVER TECH BOOTCAMP

with KAREN-EILEEN GORDON
Learn from the Comfort of your own Space
WITH COVID-19
More and More Work will be done from your HOME – 
WANT TO PERFECT THE TECHNOLOGY FOR
YOUR VOICEOVER AUDITIONING AND WORKING FROM HOME?
Does the tech involved with working on Voiceovers want to make you cry?
Does the Voiceover Tech Scare you? Freak you out?
*Not sure if you "have what it takes"
to have a successful VO career?
*Does the idea of working in your pajamas from home at ANY time you want sound yummy? (Ummmmmm….YES???)
*Want to learn about setting up a Professional, Industry-standard-meeting home
VO studio
Really affordably?
*Already working in VO and
*Need a mentor or guide through the
overwhelming-ness of the massive,
abundant VO Universe?
If you answered YES to any or all of these questions, this voiceover technology bootcamp all about the technology of voiceovers is definitely for you.
I was fortunate to have Karen-Eileen as a guest lecturer for my Online class. The students were blown away with all of the opportunities that are available to them. They had no idea when Karen-Eileen presented these to them.
Do YOU want to get in on these money making opportunities?
IF you do, then you need to register now.
This class will be kept small so that everyone will have an opportunity to practice their voiceover skills as well as be able to get individualized attention and find out what their very specific niche is.
You will need to use your computer or laptop for this class!
There will be a Wednesday evening, May 27th, 2020 ZOOM Class from 6:30-8:30
to prepare you for Saturday's, May 30th, class.
AND a Session a week AFTER the class to answer any questions that may come up!!
EARLY BIRD PRICING – for $275
After Tuesday May 26th price goes up to you $325
LIMITED TO 20 Students!
or call 305 354-3901 to register
ONLINE VO TECH BOOTCAMP!
SATURDAY – May 30th, 2020
10AM-6PM
Limited to 20 spots!
This class includes a Wed night May 27, 2020  
Online Zoom Session
$275 investment
OR CALL
305 354-3901
Lori Wyman Casting/The 

Organic

 

Actor
16499 NE 19 Ave #203
North Miami Beach, Florida   33162
305 354-3901